PHOTO TOUR OF ARDH KUMBH MELA WITH VARANASI AND KOLKATTA IN 2019
11 Day Tour / Price range £2270 - £3171
PP
29 January - 9 February 2019 - Places available
Group size - 10 maximum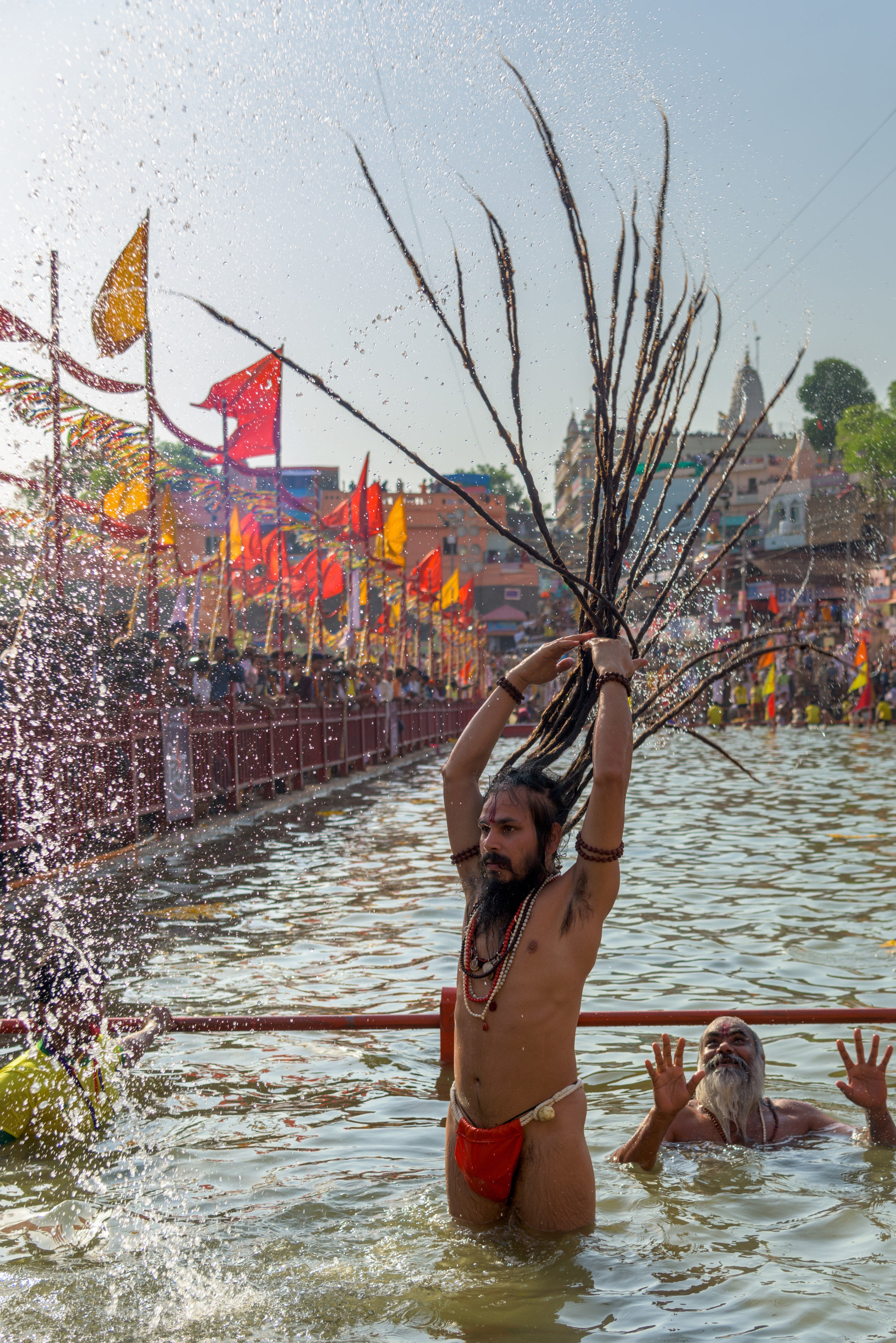 Join professional photographer Neil A White on a visual journey at the Ardh Kumbh Mela which is one of the greatest religious events for Hindus . It is held only once in six years in Allahabad. Hindu mythology considers the origin of the Magh Mela to be the beginning of the Universe. An important occasion, the Magh (Kumbh) Mela is held every year on the banks of Triveni Sangam (the confluence of the three great rivers Ganga, Yamuna and Saraswati) in Prayag near Allahabad in Uttar Pradesh.
The story that the drops of nectar of immortality fell near Sangam is believed by the people to have given mystical powers to the place as millions gather at the ghats to purge themselves of all sins by taking a dip in the waters and attain Moksha (Salvation). Young and old, fit and frail; all regions, castes, and creed aside, it becomes the single most brilliantly unifying experience ever. The place itself, overrun by Naga Sadhus, who never wear any clothes and are always smeared in ash; Urdhwavahurs, non-indulgent in physical pleasures; Parivajakas, having taken a vow of silence; and Shirshasins, who stand for all 24 hours and meditate, transforms as if from another realm.
This tour is made in partnership with Kipling India Travels. who organise all bookings, logistics and land arrangements.
Tour Highlights
Once in a life to experience and photograph the Ardh Kumbh Mela
See the life on the Ganges and photography various ghats
Visit various markets all having exciting photography opportunities
Capture traditional wrestling in Calcutta
Sunrise boat trip on the Ganges at Varanasi
Capturing the many photo opportunites on the banks of the Ganges at Varanasi
Witness and photograph the thousand-year-old Aarti Ceremony
Itinerary
Day 1 - 29 Jan 2019: Arrival Delhi
Meeting assistance on your arrival at New Delhi International airport and transfer to hotel for overnight stay.
Day 2 - 30 Jan 2019: Delhi – Calcutta (Flight)
After breakfast departure transfer to airport to board the flight for Kolkatta. Meeting assistance on your arrival at.
Kolkatta airport and transfer to hotel.
Evening meeting with the guide for discussion of photo shoot program in Kolkata for next 02 days photo opportunity
Day 3 - 31 Jan 2019: Calcutta
Morning: 'Life on the Ganges' - photography in various ghats on the river to capture a diverse subjects and activities. The flower market will be the starting point followed by the Kumartuli potters' village (where clay idols of Hindu gods and goddesses are made) and the shoot can finish at Bagbazaar ghat following the downstream of the river.
Thereafter we will take you to South Park Street Cemetery which is located on Mother Teresa Sarani, Kolkata, India. The road used to be called Park Street, and prior to that Burial Ground Road. (Please note that Photo shoot is officially prohibited but if you can hide your cameras in the backpack, it would be possible)
After lunch photo shoot of Spices market, fish market and vegetable markets. Later we will take you for tram ride from Shyambazar to BBD Bag. Where you will get excellent photo experience during the tram ride.
Overnight at hotel.
Day 4 - 01 Feb 2019: Calcutta
Morning: 'Riverside walk' to capture the traditional wrestling + pavement dwellers' morning life. We will take you Akharas like Shree 'Swami Gyan Yoganand Parimath' and Malik Ghat on the banks of the River Hooghly near the Howarh Bridge.
Traditional Indian wrestling isn't just a sport - it's an ancient subculture where wrestlers live and train together and follow strict rules on everything from what they can eat to what they can do in their spare time. Drinking, smoking and even sex are off limits. The focus is on living a pure life, building strength and honing their wrestling skills.
Afternoon 'Shadow of Calcutta' - Portraits + Yellow Taxi + old Tram etc.(Usually permission for photography at train stations are not allowed as they are protected area. However, we will do our best to grant permission from inside at railway station also we will try to get insider access to the depot where they store the tram at night (Please note that we will not get official permission for a photo shoot inside the depot but we will try our best to manage unofficially)
Overnight at hotel.
Day 5 - 02 Feb 2019: Calcutta – Varanasi (Flight) – Allahabad (Drive 120 Kms – 03 /04 Hours)
After breakfast departure transfer to airport to board the flight for Varanasi. Meeting assistance on your arrival at Varanasi airport and straight drive to Allahabad. Upon arrival check in at Tented camps.
(NOTE: As vehicles of any sort are not allowed in the fairgrounds, clients should be prepared to walk for up to 08 to 12 km during the main event of Kumbh Mela)
Day 6 - 03 Feb 2019: Allahabad
Today full day photo opportunity of Kumbh Mela. The most amazing saints visit the festival from all across India.
In Allahabad every six (6) year it is celebrated in the month of January-February when Jupiter is in Aries or Taurus and Sun and Moon are in Capricorn during the Hindu month of Magha. In the year 2019, beginning from 15th January to 04th March; all this will once again be the centre of attraction and attention from world over. Estimates suggest that in the Maha Kumbh Mela held in Allahabad in the year 2019, nearly 60 million took a bath at the occasion and if the forecasts are to be believed, the next one will garner an even bigger gathering than the previous one.
During the main bathing days, it will be a grand spectacle to photograph this humanity as well as to photograph the holy men as they walk to take the royal bath here.
Day 7 - 04 Feb 2019: Allahabad (Mauni Amavasya -Main Royal Bath 2nd Shahi Snan)
Today full day photo opportunity of Kumb Mela on Main bathing date. Holy Bath- The Most Important Ritual of the Kumbh Mela. Mauni Amavasya is the New Moon Day of Silence in the lunar month of Paush (Jan-Feb). It is the most important bathing day in holy rivers, preferably in a confluence.
The Mauni Amavasya is considered the most auspicious day for bathing due to a special celestial configuration and has traditionally attracted the largest crowds at the grand mela.
Day 8 - 05 Feb 2019: Allahabad – Varanasi (Drive 120 Kms – 03 /04 Hours)
Today again, we will take you to photo opportunity during Kumbh Mela. Afternoon drive to Varanasi. Upon arrival check in at hotel for overnight stay.
Varanasi, also known as Benares (Banāras or Kashi), is an Indian city on the banks of the Ganga in Uttar Pradesh, 790 km (490 mi) southeast of Delhi. It is the holiest of the seven sacred cities (Sapta Puri) in Hinduism, Ravidassia religion and Jainism, and played an important role in the development of Buddhism. Some Hindus believe that death at Varanasi brings salvation. It is one of the oldest continuously inhabited cities in the world. Varanasi is also known as the favourite city of the Hindu deity Lord Shiva as it has been mentioned in the Rigveda that this city in ancient times was known as Kashi or "Shiv ki Nagri".
Day 9 - 06 Feb 2019: Varanasi
Today we will take you to early morning a sunrise boat cruise on the River Ganges, and the opportunity to capture vivid photographs of devoted Hindus bathing in the river. These photos of Hindus offering their prayers against morning sunlight make the journey quite rewarding. After we return to our hotel for breakfast.
Afternoon we will take you walking trip for fascinating exploration of the narrow lanes of the Bengali Tola area of Varanasi, one of the oldest continuously inhabited places on earth. Here we will pass countless small temples, shrines, and traditional shops. Our guide will provide a unique insight into this most fascinating of cities, which would otherwise be incomprehensible to the outsider.
In the evening, you will witness and photograph the thousand-year-old Aarti Ceremony during which worshippers pray near the water by the light of candles and lanterns.
Day 10 - 07 Feb 2019: Varanasi
Today again we will provide different photo opportunity focus on close up photo shoot of Holy men, Sadhus, Kushti
Players (Indian Traditional wrestling) and again evening Ganges ceremony;
(1) Early morning Holy Man / Sadhu on the Assi Ghat
(2) Kushti Players / Mud Wrestler practise session at Assi Ghat
(3) "Traditional Caretaker/s" of funeral pryers belonging to the Dom community at the Manikarnika Ghat on the banks of Ganga
Day 11 - 08 Feb 2019: Varanasi – Delhi (Flight)
After breakfast departure transfer to airport to board the flight for Calcutta. Upon arrival check in at hotel.
Evening farewell dinner at hotel.
09 Feb 2019 - Delhi departure
In time departure transfer to airport to board the flight for onward journey
END OF Tour
What you will gain from the workshops
The tour is designed for a beginner in photography and those with some experience. We will begin at the basics of photography enabling you to develop a strong foundation in photographic technique, creativity and composition.
Our aim is to help you grow as a photographer by working with you as part of a group and individually with hands on support, and reviews of your work. Learning within a group will give you the opportunity to share ideas, knowledge and your passion, which will expand your photographic perspective.
With our guidance we encourage you to discover you own visual voice and focus on what appeals to you photographically whether be landscapes, portraiture, travel or documentary style. We give plenty of demonstrations and photo shoots set, which will be exciting and give you the chance to capture some stunning, images.
Our approach is to keep the itinerary interesting and varied but at the same time not having a huge list of places to visit. Therefore having quality time at locations so as to get the most out of it both photographically and on a personal level. Immersing your self both visually and sensually. The approach is holistic and aims at giving you a real feeling for the pulse of place and the people of Ladakh and share cultural experiences and seeing breath taking natural landscapes.
Required experience
This tour is for beginners in photography and those with some photographic experience. If you need to chat about this or anything else please feel free to get in touch with Neil anytime.
What is included
Photography guidance by professional photographer
Tour leader with local knowledge
Cover of photography basics
Lots of practice and hands on experience with demonstrations
Continual feedback given along with review sessions. One on one and in a group
Photographic styles explored
Landscape photography

Portraiture

Action shots

Documentary and shooting stories

Shooting towns and buildings

Photographing food and markets

Night photography
Technical aspects covered
Getting familiar with your camera and understanding the different settings
Understanding relationship between ISO, F-stops & shutter speeds

Exposure control

Creative uses of Depth of Field

Understanding histograms

Menu functions & modes

RAW vs jpeg quality

Using manual

Understanding natural light

Composition / The rule of thirds
Price and Booking of the Photography Tour
The price is range is £2270 - £3171 per person
We would require a holding deposit of £200 per person. The remaining balance would be due 8 weeks prior to departure.
This is a quotation only, so is subject to change and availability. No reservations have been made and no flights have been included.
Group size - Maximum 10
Optional costs
Single room Supplement - £642 per person
Supplement for staying in Super Luxury Tent in Allahabad instead of Deluxe tent for 03 nights - £280 per person
Single supplement for Super Luxury Tent - £227 per single
Supplement for staying in Luxury Tent in Allahabad - £150 per person / £68 per single
Airfare Supplement for Kolkata – Varanasi – Delhi sector - £189 per person
To make a booking please fill out the booking form on the link below. This will be forwarded to Intrepid Travel who will contact you directly to take the deposit payment.
What is included
Entrance fees of the scenic spots as listed in the itinerary.
Activities as listed in the itinerary.
Accommodations: Rooms based on Sharing double / twin room / tent. Single room supplement will be applicable if any guest want to stay in Single room
*All hotels as listed in above itinerary serve daily breakfast only Camps in Allahabad serve Breakfast, lunch & Dinner which is included in package cost
Guidance from a professional photographer
Local English speaking guide service during the city tours mentioned in the itinerary. * We will provide separate local guide for Kolkata and accompanying tour guide for Varanasi and Allahabad (Not staying in same hotel / camp)
One additional Helper for Kumb Mela for 02 days
Meeting and assistance by our representative on arrival/departure at Airport/hotel. *Please note that our representative in each city or area will not fly/drive with you from one city to another.
Private Transfers between airports, hotels and scenic spots while sightseeing in each city or area by private air- conditioned vehicle with driver.
Ac Vehicle
Wet tissues in the vehicle
What is not included
Travel insurance. Highly recommend to take your own insurance on or before paying us.
Flight/Accommodation/Sightseeing not listed in the itinerary.
Personal medical supplies and vaccinations
Any medical expenses
Visa Fee - India visa: Visa is requested to be obtained before your arrival. Please make sure that you have got your valid passport and visa before your entry to India.
Tipping: tips to guides, drivers, bellboys, etc. You can pay more or less depending on their services.
Tip in India, as appreciation to the guide and driver, we highly recommend USD4-6 per person per day to the driver and USD3-5 per person per day to the guide. Not necessary tip to our airport representatives but first arrival from your region which are often wee hours, so we suggest USD2 for thanks.
Personal expenses such as room service, internet charge, laundry, drink, fax, telephone call, camera fee in monuments, etc.
Optional activities
Excess Baggage Charges.
Please do contact us with any questions you may have.